There are more than a dozen forms of country music.  Who knew?   When researching this, because I LOVE COUNTRY MUSIC, I was amazed to learn it's origin and how it has progressed through the decades.   Founded in the southern states, country music has its origins in the Appalachian Mountains and has roots in gospel, Celtic music, traditional folk music and old-time music.
Because "hillbilly music" was deemed too degrading, the name was changed to "country and western music" in the 1940's.   Even the term "country and western" has been changed to simply "country" now.                                                
Think Elvis and Garth Brooks and you've landed on the two top selling artists OF ALL TIME.  Elvis was known as the "Hillbilly Cat" and was on the radio show Louisiana Hayride. Elvis, as you know went on to become a defining figure in rock and roll, while Garth Brooks continues to be the top-selling solo artist in US History. 
Early in music history, the Irish fiddle, German dulcimer, Italian mandolin, Spanish guitar and African banjo were the most common musical instruments. The interaction among different ethnic groups in the U.S. brought about string bands using primarily the banjo, fiddle and guitar.  
The first commercial recording of Country Music called "Sallie Gooden" by fiddler A.C. Robertson was made in 1922 for Victor Records and in 1924 Columbia Records began issuing records of "hillbilly" music.
The Grand Ole Opry aired on radio in Nashville in 1925 and continues to be a driving force today.  Their early stars were Uncle Dave Macon, Roy Acuff and Deford Bailey. 
Singing cowboys made their mark during the 1930s and 1940s and Hollywood films popularized their songs.  Gene Autry, Sons of the Pioneers and Roy Rogers were the mo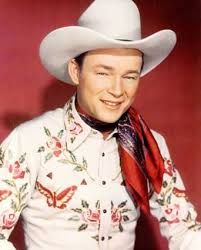 st famous of the singing cowboys. Roy was my personal favorite. Who could forget the ending song on the Roy Rogers Show?
Happy trails to you, until we meet again.
Happy trails to you, keep smilin' until then.
Who cares about the clouds when we're together?
Just sing a song and bring the sunny weather.
Happy trails to you, 'till we meet again.
Oh that brings back good memories.
By the 1950's and 1960s a blend of western swing, honky tonk and country boogie were played across the country, but "rockabilly" soon took over with Elvis' Heartbreak Hotel, Johnny Cash's, I Walk the Line and Carl Perkins', Blue Suede Shoes. 
The 1970's saw stars like Tammy Wynette and Charlie Rich emerge in a pop culture that morphed into Countrypolitan aimed for more mainstream audiences.
Ray Charles turned his attention to country music with the release of his song, "I Can't Stop Loving You.
Country Rock was established after the British Invasion with a desire for some to return to the old values of rock and roll.  Contributors to this form of music were the Byrds and the The Flying Burrito Brothers (? I don't remember them) The Grateful Dead, The Allman Brothers and The Eagles. I love The Eagles!  Also, believe it or not, but the Rolling Stones got into the act with their songs "Honky Tonk Woman" and "Dead Flowers"
Some other forms of country music that emerged during the years are Outlaw Country (think Willie Nelson and Waylan Jennings), Country Pop (Glen Campbell, John Denver, Marie Osmond), Neocountry disco music (think Urban Cowboy), Alternative Country, Truck Driving Country and Bluegrass. 
Wow! Like I said before, who knew there were so many forms of country music?  I was never into the twang, I have to admit and I loved Elvis Presley.  But today my tastes are more for the pop culture of country with stars like Tim McGraw and Faith Hill, Carrie Underwood, Brooks and Dunn, Rascal Flatts, Toby Keith, Martina McBride and George Strait.  BTW- George won the 2009 Artist of the Decade Award by the Academy of Country Music.  Yay George!
I find country music reaches deep into my soul.  It tells a story, most often a romance and the ballads can be heartbreakingly sincere and the upbeat tunes, just plain ole fun.  It's just about all I listen to on the radio. 
So, what form of music do you like?  Were you an Elvis the Pelvis fan like me?  Did you like the singing cowboys?  Who are your favorites today? 
My book, not released yet in stores, has been an Eharlequin Top 10 Bestseller for the first three weeks in August!   To celebrate, one commenter today will win an autographed copy and a beautiful Brighton key chain, from my heart to yours.